When coming home from the course today, I started browsing a book that Norm recommended, Managing the Non-profit Organization and I stumbled upon the phrase "Good intentions don't move mountains bulldozers do". It's quite interesting that Norman started today's session by writing on the white board "The road to hell is paved with good intentions". I think that the message is clear, good intentions are not enough to make this world a better place and sometimes they can even cause more harm than good. We may not want to move mountains at all (and permaculture-wise I wouldn't think it is a good idea..) but, in whatever project we engage we should try to get our act together, follow certain rules and principles, and go out there and realise it!
Some things to remember when considering any community project, or any personal project for that matter, would be:
Check the social, financial and environmental sustainability of the project (does this ring a bell?).
Check if the project is need-based.
Involve the beneficiaries in the process from the beginning. A community project is not worth doing if you don't have cooperation with the locals (in other words, don't knock on closed doors).
Avoid, if possible, complicated structures in order to get funding and try working with your personal network.
Do a cost-benefit analysis.
Do what you are good at or what you have passion for.
Focus on your local community. Buy locally, employ locally.
You don't need to say yes all the time, if you think you cannot handle a project or carry it out properly, don't promise to do it or don't start doing it.
Make yourself aware of legal issues, so that you avoid getting exposed to unnecessary risk.
Be patient and have long-term commitment: things don't change from one day to the next.
Work with people who care.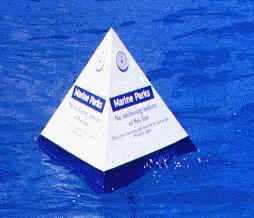 Reef Protection Markers in the Whitsundays, a marker of a successful project that Norman took up in Australia with OUCH volunteers.The first of the Toblerone generation?

We also talked about real-life projects and why they succeeded or failed, about different kind of structures that could be used to run projects and about different types of projects pertinent to the Balinese context.
It was high time we'd had a brainstorming about possible projects this group could take up! We came up with quite a few ideas, which we'll discuss tomorrow. Yes! Permaculture in action!
P.S. Sri from Adinda Rose joined the team today. She had a lot of interesting input for us, being a Balinese active in community work and wild animals' protection. I hope she enjoyed the course as much as we enjoyed her participation.